Build custom, integrated solutions across Google Workspace with the new AppSheet Apps Script connector
Google đang giới thiệu trình kết nối AppSheet và Apps Script mới cho phép bạn mở rộng các ứng dụng tùy chỉnh không sử dụng code để tích hợp và tự động hóa quy trình làm việc trên Google Workspace.This greatly extends the abilities of AppSheet apps by letting them access the power that Apps Script provides. For example, an AppSheet app can now use Apps Script to automate workflows with Google Workspace using the Workspace APIs for Drive, Docs, Sheets, and Admin SDK, and more – as well as other Google services like YouTube, Google Analytics, and BigQuery.
Who's impacted
Admins, End Users and Developers
Why it's important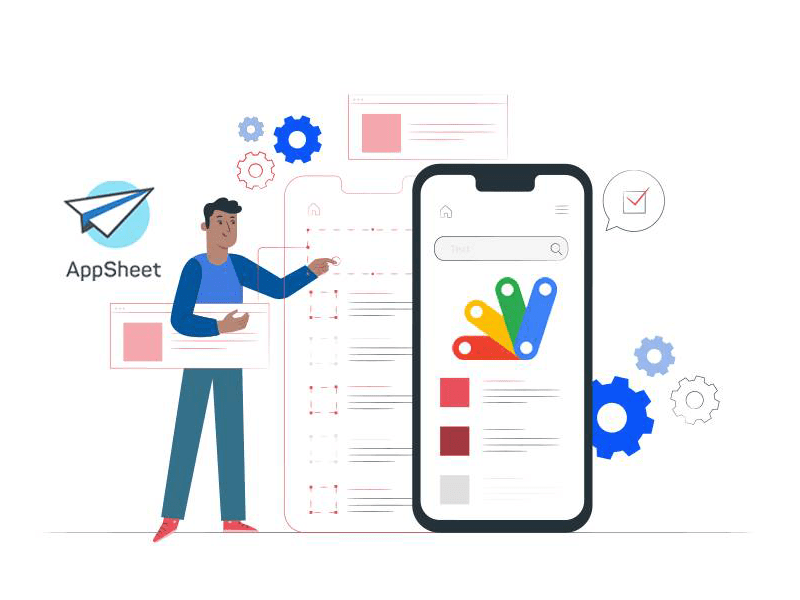 AppSheet là nền tảng của Google để xây dựng các ứng dụng không cần code và quy trình làm việc để tự động hóa các quy trình kinh doanh. AppSheet hoạt động tốt với các nguồn dữ liệu hỗn hợp, ngay cả khi dữ liệu khách hàng được lưu trữ trên Sheets, Cloud SQL hoặc cơ sở dữ liệu tại chỗ.
Apps Script is Google's hosted JavaScript platform that makes it easy to build solutions that integrate, automate, and extend Google Workspace. Apps Script is integrated with Google Workspace APIs and includes native integrations to Google services such as YouTube, Google Analytics, and BigQuery.
You can use the AppSheet Apps Script connector to extend custom no-code apps to integrate and automate workflows across Google Workspace. This is useful in a variety of scenarios, such as use cases in the retail, manufacturing or public sector. For example, you could use the connector with your AppSheet app to:
Receive employee travel requests via the web, and when a request is made, it can look up the requestor's manager and send a chat or email notification for approval.

Allow workers to capture photos from their mobile device for on-site inspections, and upload images and media to Google Drive and adjust Drive sharing settings to ensure auditors have access.

Manage shift schedules and appointments through a simple web interface, and when a time slot is booked, create an event on Google Calendar with the requestor invited.
Getting started
Admins and Developers:

As a feature of AppSheet, this will be available based on the admin control for AppSheet. There is no admin control for this individual feature, only a

product-level admin control for AppSheet.

. 

Xem Blog phát triển của Google để biết thêm thông tin về

Apps Script connector for AppSheet

. 

Use our 

AppSheet Help Center documentation

and this

video

tutorial for more information on calling Apps Script from an automation.
Rollout pace
Rapid and Scheduled Release domains: Full rollout (1–3 days for feature visibility) starting on April 13, 2022
Availability
The Apps Script Connector will be available for users in the AppSheet Core plan and above (available to Google Workspace Enterprise, xem giá của AppSheet). Người dùng trong gói Starter có thể thử nghiệm tính năng này.
Qua những tính năng trên, ta có thể thấy Google đang đạt được lợi ích lớn từ việc áp dụng AppSheet và Apps Script để mở rộng các ứng dụng không cần code nhằm tích hợp và tự động hóa quy trình làm việc trên Google Workspace.
Gimasys tự hào là đối tác cấp cao của Google tại Việt Nam và đã hỗ trợ triển khai giải pháp Google Workspace cho hàng nghìn doanh nghiệp trong nước. Liên hệ Gimasys để được tư vấn chiến lược chuyển đổi phù hợp với tình hình thực tế doanh nghiệp của bạn: 
Gimasys – Google Cloud Premier Partner
Hotline:

Hanoi:

0987 682 505

- Ho Chi Minh:

0974 417 099

Email: gcp@gimasys.com
Source: Gimasys