Turn access to Bard on or off for your users
What's changing 
Earlier this year, Google announced Bard, an early experiment by Google that lets you collaborate with generative AI. As a creative and helpful collaborator, Bard can supercharge your imagination, boost your productivity, and help you bring your ideas to life.
In the coming days, Google Workspace customers admins will be able to turn access to Bard on for their users, in the Admin console under Apps > Additional Google services > Early Access Apps.
Note: At first, Bard will be the only service managed by the Early Access Apps control. Over time, we may be adding other services under this control.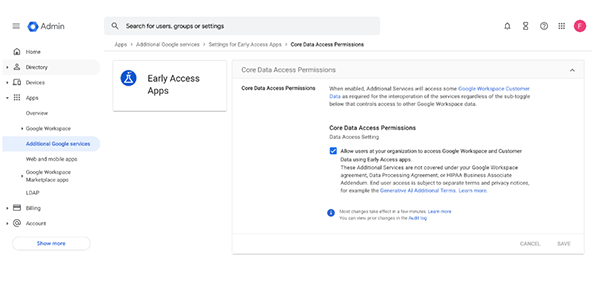 Who's impacted
Admins and end users
Why it's important
At introduction, Bard was available to users with personal Google Accounts. Beginning today, Workspace admins will have the option to open up access to Bard for their end users through the newly introduced Early Access Apps control. Note that Bard is separate from the AI — stay tuned to the Workspace Updates blog for more information about Workspace specific features.
Additional details
Regional Availability
The admin control to enable or disable access to Bard will be available for all Google Workspace customers, even if Bard isn't available in your country yet. That means that even if Early Access Apps are turned on for your organization, users located in countries in which Bard is not available will not be able to access the service.
Getting started 
Admins 

This feature will be OFF by default and can be enabled at domain, OU, or group level. 

Access to core services in Google Workspace by Early Access Apps is off by default.

Note: Services and features managed by the Early Access Apps control are Additional Services and are not covered under your Google Workspace agreement, Data Processing Agreement, or HIPAA Business Associate Addendum. When you turn on the Early Access Apps control, your organization's end users will gain access to new and experimental features and services —

End users: If enabled by your admin, visit the Help Center to learn more about using Bard.
Rollout pace
Rapid Release and Scheduled Release domains: Gradual rollout (up to 15 days for feature visibility) starting on May 5, 2023
Availability
Available to all Google Workspace customers, as well as G Suite Basic and Business customers.

Not available for any Google Workspace for Educationaccounts designated as under 18
For more detailed product information or to need technical support, you can contact Gimasys - Premier Partner of Google in Vietnam at the following information:
Source: Gimasys