Voice Typing – The Secret Weapon in Google Docs
Have you ever felt bored with sitting at the office and spending hours typing, drafting documents or translating a mountain of documents? Don't worry, in this age of technology, every application launched will help you work smarter, save effort and improve efficiency. Feature Voice Typing in Google Docs is a prime example. 
Google Docs – What is Voice Typing?
By the power of artificial intelligence, Google Voice is a service segment that specializes in providing the ability convert voice to character. Present, Google Voice Support more than 40 languages in the world. And Google Docs is the preferred place to integrate Google Voice strongest. Let's take a look at the features that Google Voice for Docs or Voice Typing provide new experiences for users.
How to enable Voice typing in Google Docs
First, make sure you're using an up-to-date version of the Chrome browser. To find out which version you're using, open Chrome browser > Click on the three-dot icon in the top right corner > Help > About Chrome.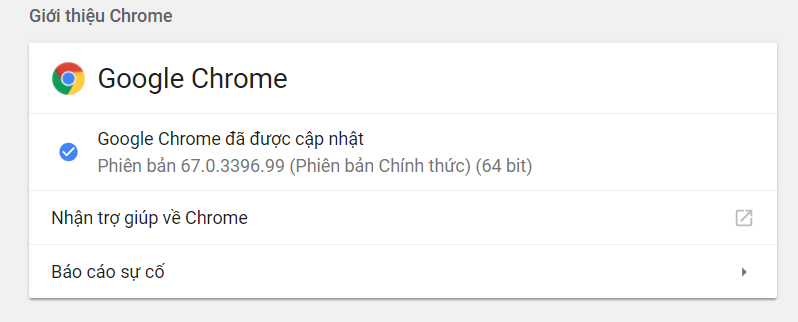 Updating to new versions of Chrome not only makes it easier to use Google apps, but it also helps protect you from cyber threats.
Open Google Docs > Tools > Voice typing… (Ctrl + Shift + S)

After activating, you will see a widget appearing in the left margin of the text

 voice typing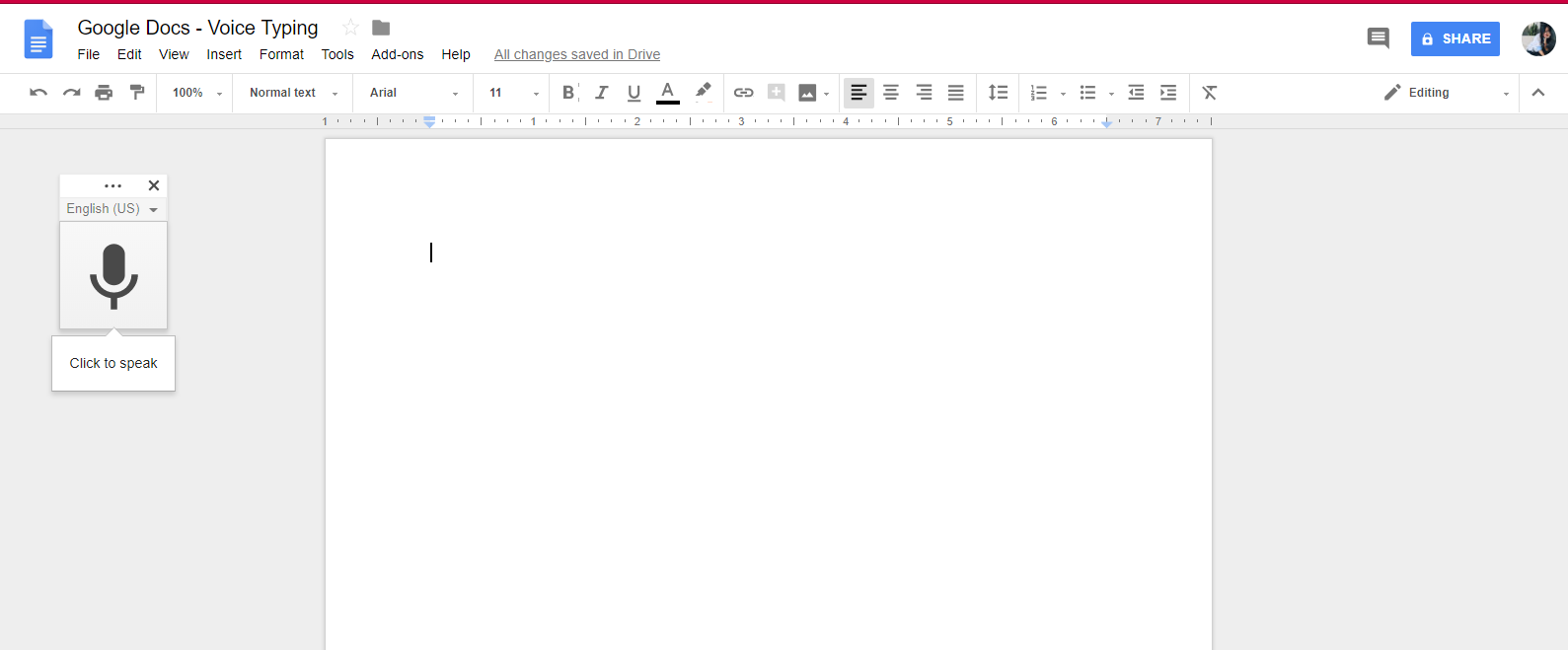 Then, you choose the language you want to use, including Vietnamese: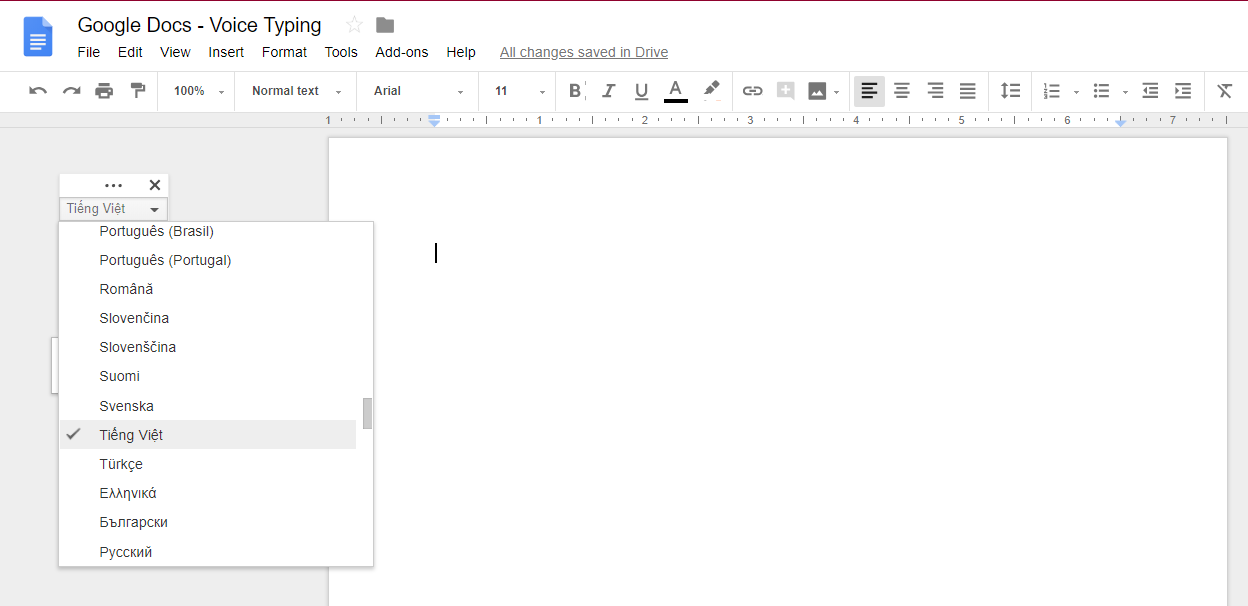 Then just tap the microphone icon to start speaking. For the first time use, Chrome will need your permission to use the mic, please select Allow.
Now everything is ready, just speak clearly into the mic, the characters will appear in real time! While speaking, you will see the icon (
) – this is an indication that Docs is processing the language and converting your voice into letters on the text.
Instructions and examples on how to use Voice typing to edit documents.
What can you do with Google Docs – Voice typing?
Text editor: Sure. This feature is the secret weapon of office workers in the technology age. Instead of hand-tied typing with the keyboard, we are now "freed of labor".
Practice speaking foreign languages: Why not? The importance of foreign languages is certainly not in dispute. But instead of spending money on expensive malls, why don't we take advantage of this incredibly useful feature? Just select the language you want to learn – English, French, Spanish… and start speaking into the mic. You can start with simple words, get more advanced with short paragraphs. Let's say you speak a piece of English but Docs returns a paragraph full of strange words, maybe you need to spend more time on this speaking skill!
You can do so much more with… English!
Although there is a Vietnamese language option, Google Docs only supports the voice-to-text conversion. But with languages like English, German, Spanish, French, Italian, etc., users can "order" Docs more:
Document navigation – Move within the text
Command "Go big" will be one of the commands you use the most. Combined with phrases like "start of"/"end of" or "next"/"previous", you can move around the text without using the mouse. For example:
Go to start/end of document
Go to start/end of paragraph
Go to next/previous character
Go to next/previous word
You can even give smarter commands:
Go to next/previous formatting change
Go to next/previous misspelling
Text Selection – Select words and paragraphs of text
To complete the text properly, you will definitely need to select words, paragraphs or whole text to adjust the format. To do this without using a mouse, Google has developed an application where you can select any part of the text by voice. For example:
Select all
Select [word]
Select next/last line
Select next/last [number] lines
Text Editing – Text Editing
While using voice typing, you will most likely accidentally pop out the words "eh…", "umm.."… And to edit them is also very simple. You just need to select the words or paragraphs that are wrong, and then issue commands like: Cut, Copy, Paste, Delete, Delete last word,…
Text Formatting – Edit text formatting
Apply normal text
Apply title
Apply subtitles
Apply heading [1-6]
Bold/Remove bold
Italics/Remove italics
Underline/Remove underline
Strikethrough
And if you don't need to use voice typing anymore, just say "Stop listening". 
If you already have a Google account, you can completely start using this Voice typing today and refer to more "commands" for Docs. here.
Refer: Mail merge – How to send personalized email to multiple people.
Updated: Gimasys