Gimasys upgraded the Order Online system
After a period of system deployment Order Online G Suite service (Workspace Google) và nhận được những phản hồi tích cực từ Quý khách hàng, Gimasys đã tiến hành nâng cấp và cho ra phiên bản mới của hệ thống Order Online G Suite nhằm mang tới những trải nghiệm tốt hơn trong việc đăng ký sử dụng dịch vụ G Suite tại Gimasys. 
Advantages of Order Online Version 2 system compared to Version 1:
Simpler, more user-friendly interface:

Version 2 is improved towards simpler, more complete and user-friendly.

Order management:  

For this update, we have optimized order management for customers who have signed up for G Suite service at Gimasys. After completing the order,

customer will receive an account to log into the system. This will be the place to gather all information about customers' transactions with Gimasys as well as information about domain names, number of accounts, expiration dates, etc. Customers can manage their order information online, especially when you have a transfer of personnel in charge of G Suite registration, new employees can quickly take over the job without a hitch.

It's more convenient to Buy more and Renew (Renew):

Developed from Version 1, customers can look up the expiration date information online and actively renew the service. The purchase of additional purchases has been almost automated and the unit price information can be looked up easily.

The online ordering process ensures legality in accordance with the law:

Website Gcloudvn.com has been registered with the Ministry of Industry and Trade, all

e-transactions, e-contracts, e-invoices

all ensure the legality, reliability and compliance with the provisions of the law.

Apply Coupon code on Order Online Version 2:

The special coupon code system will be officially applied on the Order Online Version 2 system, discounts, promotions and Coupon codes will be regularly announced on the website.

Website

and

Fanpage

by Gimasys. Customers can update information and get Coupon at Gimasys Website and Fanpage..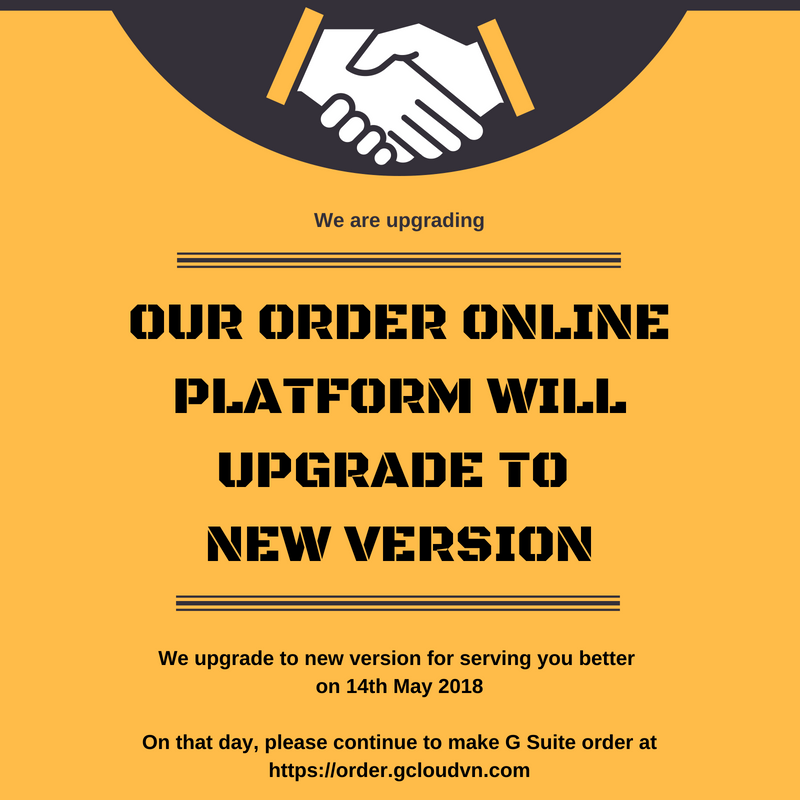 Gimasys will officially run the Order Online Version 2 system on 14/05/2018. If you are in need of registering to use G Suite service at Gimasys – Vietnam Google Cloud Partner, can experience service registration on our new system or contact the consulting team for information support as well as receive the best incentive programs.
We always strive to improve service quality to better meet all the needs of our customers, if you have any feedback or need to support service information from Gimasys, please contact us via email. Hotline: Ho Chi Minh: 28 7305 0186 - Hanoi: 0987 682 505 or Email: gsuite@gimasys.com for service registration information support.
Best regards
Gimasys Team!