Google Kubernetes Engine Enterprise (GKE) is now generally available from November 15, 2023
Hôm nay, Google vui mừng thông báo rằng GKE Enterprise, phiên bản cao cấp của GKE, sẽ có có thể sử dụng rộng rãi vào ngày 15 tháng 11 năm 2023. Với GKE Enterprise, các công ty có thể tăng tốc độ phát triển và triển khai trên nhiều teams, khởi chạy dễ dàng và an toàn các workloads quan trọng, đồng thời giảm tổng chi phí sở hữu với giải pháp được quản lý và tích hợp hoàn toàn từ Google Cloud.
GKE Enterprise: the next evolution of Kubernetes from Google Cloud
GKE Enterprise builds on Google Cloud's leadership in containers and Kubernetes, bringing together the best of GKE and Anthos's reach vào một nền tảng containers được tích hợp và trực quan, với trải nghiệm trên console duy nhất. Google Cloud đang thực hiện sứ mệnh trở thành nơi tốt nhất để chạy các containerized workloads. Điều này bắt đầu từ năm 2014, khi Google giới thiệu dịch vụ managed Kubernetes đầu tiên trên thế giới, Công cụ Kubernetes của Google (GKE). Lấy cảm hứng từ hệ thống quản lý cluster nội bộ của Google, Borg, GKE là dịch vụ Kubernetes hàng đầu có khả năng mở rộng cao nhất hiện có. Bất cứ nơi nào bạn xây dựng và chạy các containers, từ Google Cloud đến các cloud khác đến data center và edge, Google luôn mong muốn cung cấp nền tảng containers đơn giản, toàn diện, an toàn và đáng tin cậy nhất cho mọi workloads.
Wherever you build and run containers, from Google Cloud to other clouds to the data center and the edge, we aim to deliver the most simple, comprehensive, secure, and reliable container platform for all workloads. We are also excited to share that Gartner recently recognized Google as a Leader in the 2023 Gartner® Magic Quadrant™ for Container Management. Google was positioned highest in Ability to Execute of all vendors evaluated and we believe this validates the success of our mission.
The scalable, secure, and simple enterprise container platform
Gartner predicts that by 2027, "more than 90% of global organizations will be running containerized applications in production, which is a significant increase from fewer than 40% in 2021." Containers power today's most innovative apps and businesses — and will unlock even greater business transformation and innovation in the years ahead. But to rely on containers for their most business-critical new and existing workloads, enterprises need more than just the containers — they need a complete container platform with enterprise-grade scale, security, observability, and reliability built in.
GKE Enterprise edition includes fleet team management that lets platform engineers easily group similar workloads into dedicated clusters, apply custom configurations and policy guardrails per fleet, isolate sensitive workloads, and delegate cluster management to other specific teams. Teams can run and manage their workloads, as well as view logs, resource utilization, error rates, and other metrics, all scoped to their own set of clusters and namespaces.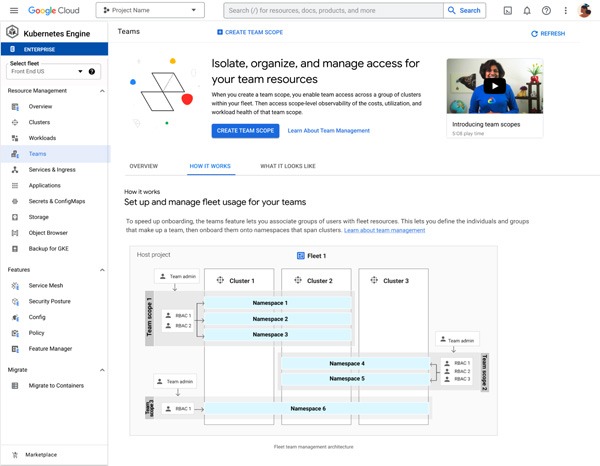 As part of the GKE Enterprise launch, we are also announcing the general availability of Advanced Vulnerability Insights, which provides scanning and vulnerability detection in Java, Go, Javascript, and Python language packages. Detecting vulnerabilities in open-source software requires a holistic approach, and security best practices recommend scanning early and often throughout your development lifecycle to help maintain an effective security posture. These vulnerability results can be viewed in the GKE Security Posture dashboard as well as in the Concerns tab, along with operating system concerns, misconfigurations, and security bulletins. GKE Enterprise customers can enable Advanced Vulnerability Insights at no additional cost.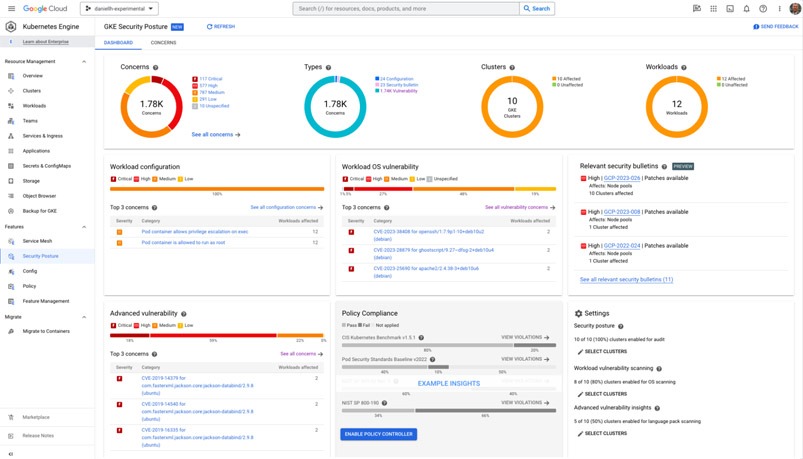 GKE Enterprise also comes with managed governance and policy controls, and managed service mesh — all based on the best of the Kubernetes open-source ecosystem. And because GKE Enterprise is a fully integrated and fully managed platform with a simple, intuitive, in-context observability dashboard, you spend less time and effort managing the platform and more time creating amazing apps and experiences for your customers.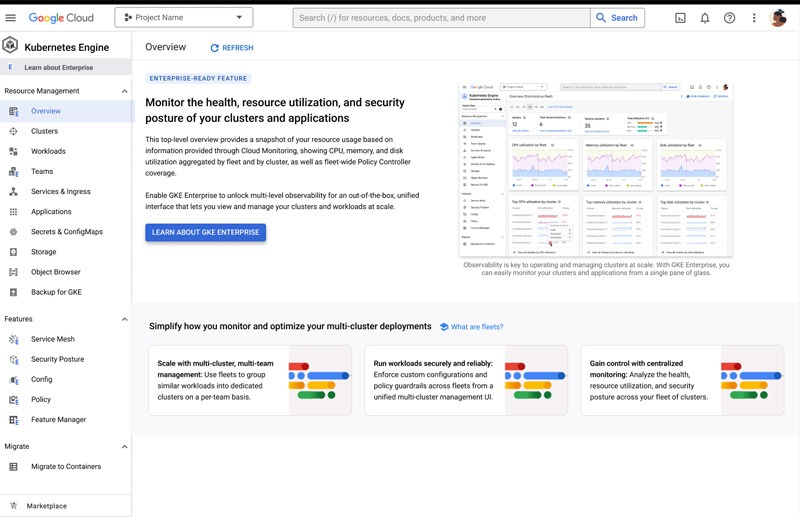 Powering your success in a container-first world
We've come a long way together since 2014, from powering your simple web applications, to running transformational, AI-driven, business-critical applications in containers in the cloud. GKE Enterprise makes it even faster and safer for distributed teams to run workloads at scale, without growing costs or headcount. In fact, GKE Enterprise is already producing amazing results, with some customers improving their productivity by 45%, while reducing software deployment times by over 70%.2
As one of the world's largest multinational financial institutions, HSBC has been on an incredible innovation journey, harnessing ideas and turning them into impactful projects using Google Cloud technology. From infrastructure migrations to data warehouse projects and risk advisory tools, HSBC has utilized a suite of Google Cloud products, including GKE, to deliver transformational results.
"Google Kubernetes Engine has helped us scale our business, move fast, and innovate for our customers. With the proliferation of containers across our organization, we needed a way to increase velocity safely as we scaled across multiple teams and workloads. With the new GKE Enterprise edition, Google Cloud offers a comprehensive managed container platform with enterprise-grade security and governance optimized for business critical applications."– Scott Surovich, Principal Engineer and Global Container Engineering Lead, HSBC
Source: Gimasys