Everything you need to know about Google's Drive Enterprise
In the past, if you wanted to use Google Drive for your business, the only option you had was to bring all of your users to G Suite, whether you wanted or needed the rest of the tools. However, with an application that has reached the milestone of nearly 1 billion users worldwide, Google has officially launched it Drive Enterprise – a "stand-alone" version of Google Drive and independent of G Suite to meet the requirements of business customers. So what's so special about Drive Enterprise and if you're considering signing up for this solution, what do you need to know?
Drive Enterprise là gì?
Drive Enterprise là phiên bản Google Drive độc lập mà doanh nghiệp có thể mua riêng lẻ, không cần phải mua cùng với cả bộ ứng dụng G Suite (GG Workspace).
Drive Enterprise includes:
Google Drive

Google's online word processing tools (Docs, Sheets, Slides), Sites, Forms

Enterprise-grade security and administration features such as: Advanced data loss prevention (Advanced) Data Loss Prevention), Google Vault, Security Center and Mobile Device Management.
Just look at it, you can see: Drive Enterprise offers all the features of Drive, but users don't need to pay extra for what they don't need. Besides the above features, this version also brings some essential applications such as:
New Sites: You can create and publish internal websites for your own teams, projects, or corporate events, without knowing how to code.

Directory: Admin and users can easily manage personal and global contacts.

Groups/Groups for Business: Create admin-managed groups or group emails, create forums or collaborative mailboxes to promote teamwork in the business.
However, Drive Enterprise will Are not including Gmail by business domain, Calendar, Cloud Search, Google+, Hangouts, Meet, or the Sites classics version.
Từ ngày 29/11/2018, những doanh nghiệp quan tâm tới nền tảng quản lý và chia sẻ nội dung Drive Enterprise của Google có thể chính thức đăng kí và sử dụng dịch vụ này thông qua Gimasys – Đối tác ủy quyền của Google tại Việt Nam.
Google chính thức cho ra mắt Drive Enterprise – ứng dụng độc lập với G Suite
Drive Enterprise mang đến lợi ích gì cho doanh nghiệp
1.Nền tảng quản lý nội dung dành riêng cho doanh nghiệp
Drive Enterprise là một giải pháp quản lý nội dung, tài liệu dựa trên nền tảng điện toán đám mây của Google, giúp doanh nghiệp thúc đẩy tinh thần teamwork và nâng cao năng suất hoạt động.  Thừa hưởng khả năng bảo mật của Google, ứng dụng trí tuệ nhân tạo và khả năng cộng tác trong thời gian thực, Drive Enterprise là một lựa chọn thay thế tốt nhất cho các giải pháp ECM (Enterprise Content Management) truyền thống. Bên cạnh đó, doanh nghiệp còn có thể dễ dàng di chuyển (migrate) dữ liệu hiện tại lên Drive và tiếp tục làm việc với ứng dụng của các bên thứ ba như Microsoft Office.
2. Tiếp tục sử dụng các giải pháp quen thuộc – bao gồm cả Microsoft Office
Nhờ khả năng tương thích tốt với các giải pháp, công cụ của những bên thứ ba, quá trình giúp người dùng làm quen với Drive Enterprise ̣(adoption process) sẽ trở nên rất nhẹ nhàng và đơn giản. Người dùng có thể mở và bình luận trực tiếp trên 60 loại định dạng tệp khác nhau, bao gồm cả tệp tin của Microsoft Office (Word, Excel, Powerpoint,…) và có thể làm trên Web hay trên điện thoại một cách linh hoạt. Drive Enterprise cũng giúp mọi người có thể nắm bắt được tinh thần làm việc chung bằng cách hiển thị những thông tin như: ai đang chủ động chỉnh sửa các tệp, ai đang làm việc cùng nhau để thống nhất và tránh mâu thuẫn nội dung,… Nền tảng này của Google cũng hoạt động với các công cụ phổ biến dành doanh nghiệp như Slack hay Salesforce.
3. Bảo vệ nội dung doanh nghiệp nhờ hệ thống bảo mật Google
Với Drive Enterprise, quản trị viên có thể giúp nhân viên dễ dàng truy cập vào nguồn kiến thức, tài liệu cần thiết mà vẫn đảm bảo được sự an toàn đối với toàn bộ "chất xám" của doanh nghiệp. Bên cạnh những tính năng giới hạn quyền truy cập như Drive thông thường, Drive Enterprise còn ngăn người dùng chia sẻ tệp chứa thông tin nhạy cảm với những người bên ngoài doanh nghiệp của bạn, thông qua:
Data Loss Prevention (DLP – Ngăn chặn mất dữ liệu): Quét các thông tin nhạy cảm và gửi cảnh báo về cho quản trị viên
Google Vault: Quản lý, duy trì, tìm kiếm và trích xuất email cũng như cuộc trò chuyện có lưu lại nội dung, phục vụ cho việc tìm kiếm điện tử, điều tra pháp lý
Team Drive: Kiểm soát và cấp quyền truy cập vào tệp từ mức độ doanh nghiệp (các tài liệu lưu trong Team Drive sẽ thuộc quyền sở hữu của cả team chứ không thuộc sở hữu của cá nhân như trong My Drive bình thường)
4. Tiết kiệm thời gian với trí tuệ nhân tạo (Built-in AI)
Drive Enterprise giúp kết nối người dùng với nội dung mà họ đang tìm kiếm nhờ có sức mạnh của trí tuệ nhân tạo (Artificial intelligence) và machine learning (Machine learning) được tích hợp sẵn. Các tính năng như Quick access – Truy cập nhanh cắt giảm thời gian dành cho tìm kiếm tệp xuống 50%. Khả năng tìm kiềm nhờ Machine Learning cho phép Drive hiển thị nội dung phù hợp và "liên quan" nhất, dựa trên những yếu tố như: những người mà bạn thường xuyên cộng tác cùng, tần suất các cuộc họp và các tệp thường xuyên được chia sẻ,… qua đó giúp người dùng làm việc hiệu quả hơn.
5. Cộng tác trên nền tảng quản lý nội dung hiện đại
Người dùng Drive Enterprise có thể truy cập nội dung an toàn dù đang ở bất kỳ đâu với bộ nhớ được xây dựng trên nền tảng điện toán đám mây. Dễ dàng chia sẻ tệp, yêu cầu cấp quyền truy cập, phê duyệt thông tin, theo dõi các phiên bản nội dung và áp dụng danh mục siêu dữ liệu (meta-data) để tìm tệp nhanh hơn. Drive Enterprise tập trung lưu trữ dữ liệu tệp trên mây, ngăn dữ liệu của công ty bị xâm nhập hoặc bị mất. Và với các công cụ soạn thảo văn bản online Docs, Sheets, Slides, các nhóm có thể làm việc cùng nhau từ mọi nơi trên mọi thiết bị.
Các tính năng của Drive Enterprise
1. Google Vault for Drive
Google Vault allows admins to set retention rules to store important document files – these files cannot be accidentally/intentionally deleted, thereby ensuring compliance. company policies or serve legal requirements. Data control also allows admins to set up file deletion policies – this way, admins can save time when dealing with each delete – move of documents in the enterprise.
2. Team Drive
Team Drive is a cloud-based document management and storage system, designed for the whole team (Team Drive), different from the usual Drive application of Google accounts (My Drive). Content sharing and ownership of each document file will be managed at a team or enterprise level, and documents stored in Team Drive will belong to the team instead of each individual. Admins can manage the access of individual members by allowing/restricting them to edit, comment, rearrange or delete files.
With the above special features, it can be said that Team Drive is a solution to simplify content management, especially for teams whose personnel structure often changes. When a person leaves, all of their documents and data remain on Team Drive, saving time in finding, organizing, and preserving documents. And when a new employee comes in, they can easily access all of their predecessor's documents right on Team Drive.
Besides, one of the outstanding features of Drive is Quick Access. Quick Access uses the power of Machine Learning to predict and show what documents users are looking for, based on factors such as: Which members frequently share files, and the date and time of a meeting. online is scheduled in advance.
3. Data Loss Prevention – Ngăn chặn mất dữ liệu
In today's technology era, data is a rare form of "oil" for businesses. Therefore, no matter where it is stored, the protection of confidential corporate data is one of the vital issues. With Data Loss Prevention (DLP), Google gives admins greater control related to to how data is shared outside the company. DLP will analyze document files in the enterprise's Team Drive to find sensitive content. From here, admins can set up policies that deal with issues each time sensitive content is detected. Admins can also control what content members can share externally through configuring specific rules.
4. Di chuyển dữ liệu lên Drive Enterprise
Google has acquired AppBridge – một công cụ di chuyển dữ liệu ở cấp độ doanh nghiệp lớn, giúp  quá trình di chuyển lên Cloud của các đơn vị diễn ra dễ dàng hơn rất nhiều. Dù đang lưu trữ dữ liệu trên server của công ty, các giải pháp hybird, hay đang sử dụng dịch vụ Cloud của các đơn vị cung cấp khác, AppBridge cũng sẽ hỗ trợ doanh nghiệp di chuyển khối lượng thông tin đó lên Google Drive. Với AppBridge, dữ liệu từ hệ thống quản lý tài liệu của công ty như SharePoint có thể được di chuyển lên Google Docs nếu cần. Quyền truy cập của các file vẫn được giữ nguyên sau khi di chuyển, vì thế doanh nghiệp sẽ không mất thời gian thiết lập lại cấu trúc quyền truy cập dữ liệu.
Specifically, businesses can expect from AppBridge:
An "end-to-end" data migration service (offering all-inclusive services)

Designed for data migration of complex environments and large data blocks of corporations

Get specific advice and planning before data migration, and track and manage results specifically

Migrate existing document security settings, thus ensuring enterprise-grade security
With the above features, Drive Enterprise is a suitable option for businesses that trust Google products but do not have the need to migrate their entire current system to G Suite. More than just an efficient place to store and manage enterprise resources, Google's platform also provides an access control tool and collaboration platform for members inside and outside the company, especially. especially those that have a huge amount of documents and a complex access structure.
Chi phí của Drive Enterprise được tính như thế nào?
8$/month for each active account* + 1$/25GB/month for storage. At this cost, Drive Enterprise is the first document-sharing and management solution on the market that offers pricing based on the amount of space actual users use – meaning users only pay for what they use. they use and save a large amount of money compared to other platforms.
*What is an active and active account?
An activity is defined as anything that appears in a Drive Audit. This is the same as what users see in the Admin Console. For example, an active user would:
Make changes: Create, upload, edit, rename, move, add to a folder, move out of folder, trash, delete, remove from action bin, sort files, …

Access: view, download, preview, print

Using API also generates activities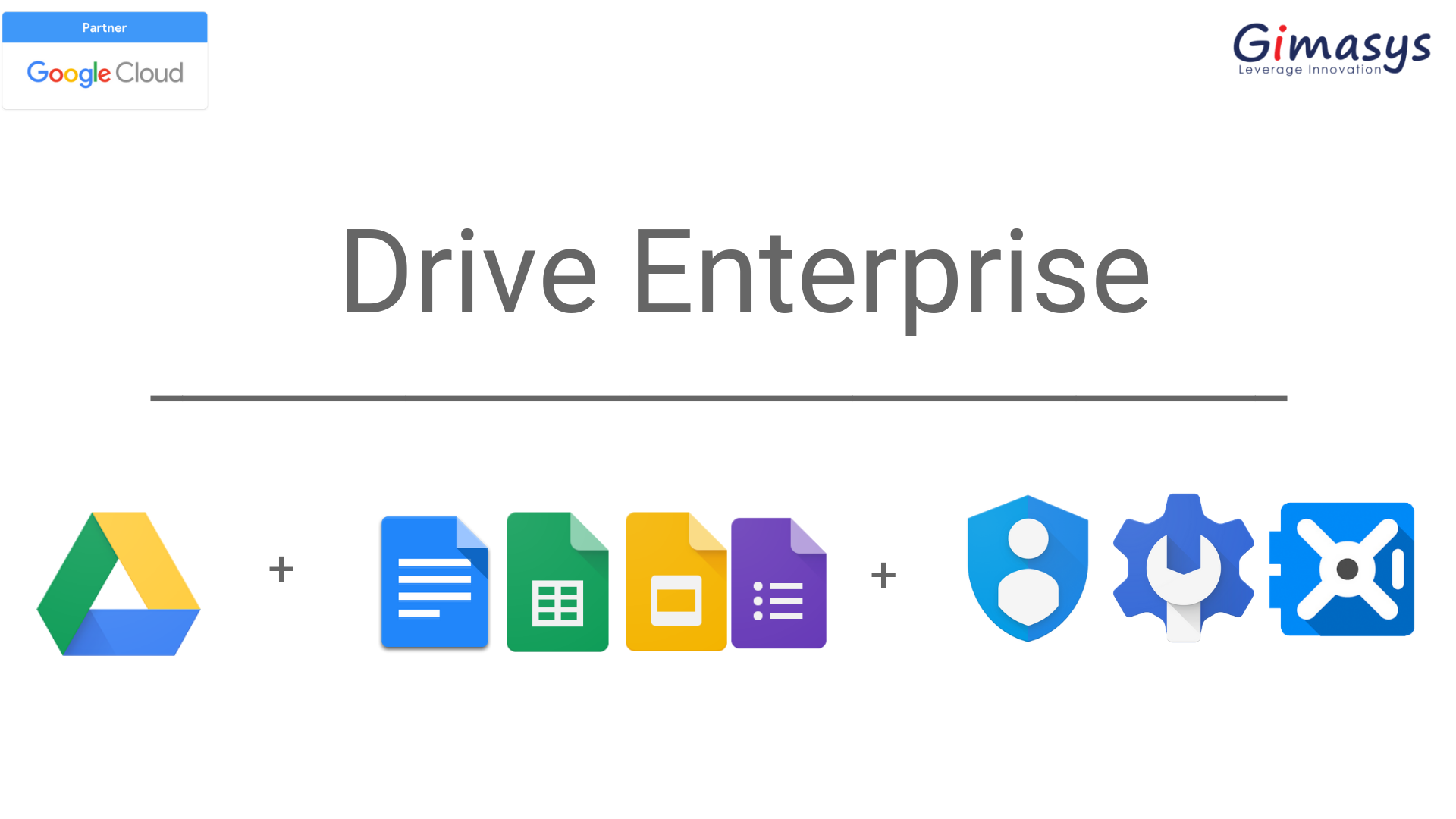 For more specific advice on the parallel application of Drive Enterprise and other software in the company, you can contact Gimasys – Authorized partner to provide Drive Enterprise service in Vietnam - for assistance:
Email: gsuite@gimasys.com
Tel: Hanoi | 0987 682 505 or TP. Ho Chi Minh | 0974.417.099
Free Trial: Link 
Update: Gimasys