Find out what G Suite has besides business Gmail?
Security - Stability - Prestige
You don't buy products, you buy solutions. When choosing G Suite or any product with a similar purpose, you are not buying some email account with a corporate domain name but are paying for the benefits it brings.
So if only considering Gmail, what benefits does Google bring to your business? An information exchange solution safe - secure - stable. Khi mà môi trường cạnh tranh ngày càng khốc liệt và công việc luôn trong tình trạng dồn dập, ứ đọng, có lẽ điều cuối cùng mà bạn muốn để tâm tới là liệu email mình gửi đi có tới được hòm thư người nhận hay không? Email có bị rơi vào spam hay không? Những giao dịch và thông tin cá nhân mình gửi đi có đang bị một bên nào  đó "nhòm ngó"? Với mục đích tập trung vào những lợi ích cốt lõi mà có thể bạn chưa biết, phần này sẽ chỉ giới thiệu ngắn gọn những lợi ích khi sử dụng Business Gmail by Google.
If you're considering between Google products and other vendors, you can check out more G Suite comparisons here:
Compare G Suite and cheap email hosting solutions

Compare G Suite with Office 365
So what does G Suite have besides business Gmail?
Drive – Manage, share and secure data
Drive lets you store, access, and share documents (with the ability to restrict access) – all from a single interface. With Google Drive, you can easily work with your documents from any device (Laptop, phone, tablet, chromebook, ...) without worrying about text files, images, videos. permanently stored on a certain computer. As an integrated application in G Suite, Drive can meet business requirements both in terms of:
Capacity:

Each G Suite account has at least 30GB of space – double that of a free gmail account. If 30GB is not enough, businesses still have many other options – buy more Drive space (buy only for those accounts that need it instead of buying for all users). Or upgrade to higher versions such as Business or Enterprise – the capacity of this version is not limited (if you buy 5 or more accounts. For quantities under 5, users will have 1TB/account). This will be especially useful for units that often have trouble with quotas (limits) or those that have to work with large files.
Security:

One of the most useful features of this storage tool is to manage ownership and access rights to data and documents in the company. For example, in

My Drive

: users can restrict the right to edit, view, comment, print, download or invite others to access without the consent of the file owner (the owner of the document). Especially with

Team Drives

, businesses can be completely assured of the ability to manage documents, as well as eliminate the worry of getting data back every time an employee leaves. Team Drives and a

common space

, allow

the whole team

store, search, and access documents. Unlike Google My Drive, once documents are moved into Team Drives, they will belong to

ownership of the whole team & enterprise

It is no longer limited to individuals. Besides, team Drive also provides ownership, sharing and recovery of data along with longer storage time for deleted files.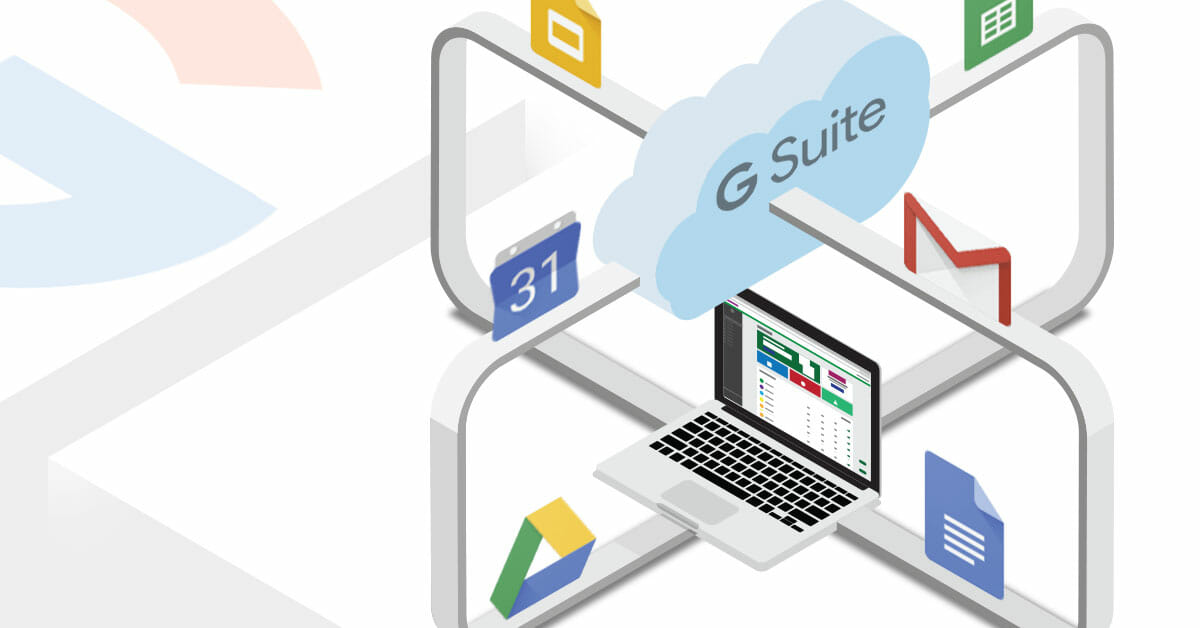 See details at: Difference between Team Drive and Google My Drive
Calendar – Hangouts Chat – Hangouts Meet: Promote collaboration and teamwork in the enterprise
Google Calendar: Google's calendar application helps you manage time and schedule important meetings with customers and partners. One of the great things about Google Calendar is the ability to create different types of calendars that everyone in the business (or a small group of people) can access. For example, you might want to build a calendar of events, vacations, and regular meetings just for your team. Its advantage over the free version lies in the fact that everyone in the same company can access and cross-check colleagues' calendars (if allowed), so everything will be done easily. than.
Hangouts Chat & Meet: These are two applications that help teams easily collaborate and exchange information with each other, or between people in the company and partners and customers outside. With Meet, each employee can organize online meetings by themselves (online, face-to-face meeting) and join the meeting right on the phone/laptop/tablet instead of having to spend time and expense traveling, calling. regular phone. If you've used Slack, you'll probably find it too Hangouts Chat brings the same convenience, and is especially suitable for teams that have to work on projects. Not to mention it also integrates with all other applications in G Suite (like Gmail, Drive, ...)
Docs, Sheets, Slides: Work together in real time
"Real-time collaboration" is the phrase that Google uses to talk about the benefits that this word processing toolkit brings. Features similar to Microsoft's Words, Excel, and PowerPoint, but Google's products are superior because they allow everyone to go online and work "in real time" - that is, Multiple users can edit the same document, at the same time, from anywhere. The data will automatically be saved with the version history (edit history). With this feature, your employees will not have to wait in line for this person to edit > save > send via email > someone else download to computer > edit > save > re-send via email waiting for approval,.... If you've never worked together on Docs or Sheets, you've probably missed a useful feature that even Microsoft has to learn and develop for its software.
Don't worry about the difference in the tools you use compared to your customers and partners. Because you can upload files and edit them instantly, whether it's Microsoft Word, Excel or PDF (.docx, .doc, .pdf, .rtf, .txt, xlsx, .csv, .html, .ods ) From February 2018, you can even collaborate and comment directly on Microsoft Office files without having to convert or do anything complicated.
Admin Console: Manage users in the enterprise
The Admin Console in G Suite allows business owners and admins to easily manage the entire system from one centralized console. Recently, Google has remodeled and added a lot of features compared to the previous version of Google Apps to meet the control needs of businesses.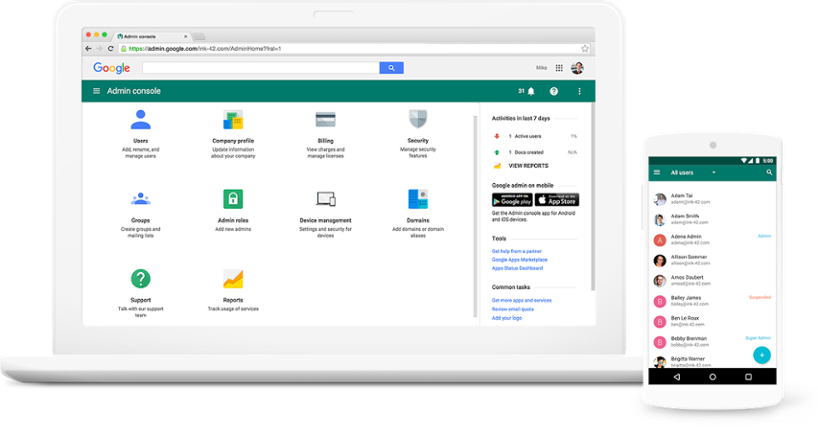 From the Admin console, admins can do everything from add users and user groups, manage devices, add other subdomains for Gmail, and more. Most (if not all) applications in G Suite must be authorized by an admin before they can be used.
After successfully registering for G Suite, the enterprise's admin will receive the handover and hold all administrative rights to the system without having to depend on Google's suppliers or partners. Here, the admin can continue to set up security settings according to the company's policy and decentralize management for users if needed.
Google Vault – Backup & e-Discovery
There is no such thing as too many "backups" or backups. Vault allows admins to manage, retain, search and extract enterprise data. It can be email, file content saved in Drive or chats (with history saved). Basically, you can archive all data and set retention policies to serve legal investigation requests if necessary.
Updated: Gimasys