7 reasons businesses should use Google Workspace
Xã hội công nghiệp 4.0, kỷ nguyên của bùng nổ công nghệ thông tin và ứng dụng số hóa. Con người mỗi ngày càng đối mặt với những chuỗi công việc chuyên sâu, rắc rối, đòi hỏi cần phải được xử lý chi tiết hơn. Do đó, sự ra đời của các bộ ứng dụng như Google Workspace trở thành một công cụ đắc lực nhằm hỗ trợ cho các doanh nghiệp đơn giản hóa các tác vụ công việc, tăng năng suất và tiết kiệm chi phí.
> Related articles:
Overview of Google's Workspace application suite
Google Workspace customers (before is G Suite) is a productivity toolkit built on Google's cloud computing platform, following the software-as-a-service (Saas - Software as a Service) model.
Workspace provides a suite of applications from communication, storage, collaboration to administration, with main applications such as Business Gmail, Google Calendar, Docs, Sheets, Slides, Google Meet, Google Chat, Google Drive, Google Sites.., Workspace helps businesses and organizations improve work efficiency through sharing document information and collaborating internally as well as working more professionally with customers and external partners.
To meet the diverse needs and suit the use purposes of each business, the set of applications Workspace distributed by Google with 4 main packages: Business Starter, Business Standard, Business Plus and Enterprise.
Với từng Google Workspace package, doanh nghiệp sẽ được tối ưu hóa chi phí theo từng mục tiêu đầu tư và phát triển của doanh nghiệp.
In addition, Workspace Essential is for organizations and businesses with the most advanced functions for self-control and user management in their businesses such as:
Add and remove existing user accounts.
Manage user profiles.
Manage personal and global contacts and Groups/Groups for Business features.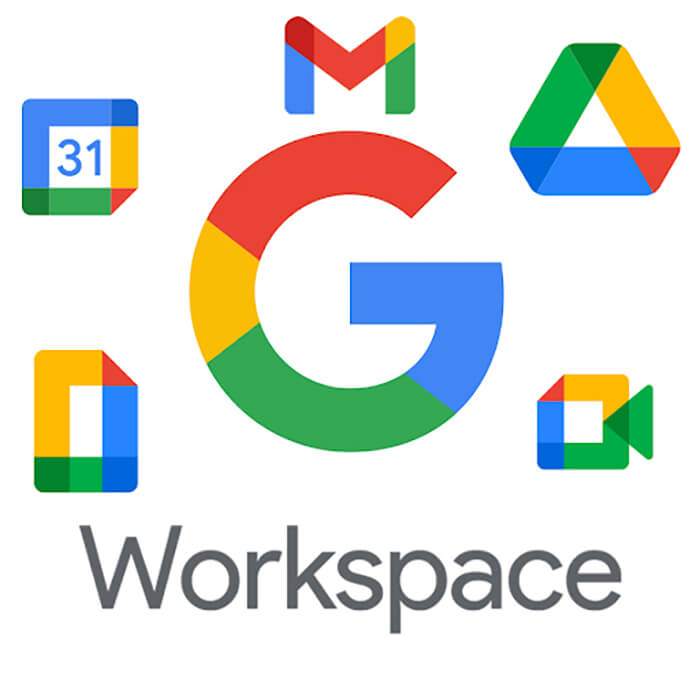 Why businesses need Google Workspace for business activities
Most businesses, when deciding to invest in a set of tools to support operations and business, are interested in compatibility, ease of deployment within the enterprise, and security must be a priority. Top. With the benefits Google Workspace brings, businesses will own a set of tools that are fully refined and optimized.
1. The interface is familiar and easy to use
One of the benefits of using Google Workspace for business is that most employees are probably already familiar with using the personal Gmail interface and working with the Google Offices suite (Docs, Sheets, Slides, ..). This makes the transition to Workspace super easy and ensures you don't have to spend time training employees on how to use new tools.
Besides, with the Workspace application suite, if the business already has an active email account, Google will make it easy for businesses to upgrade, convert old email accounts to business Gmail quickly while ensuring data integrity.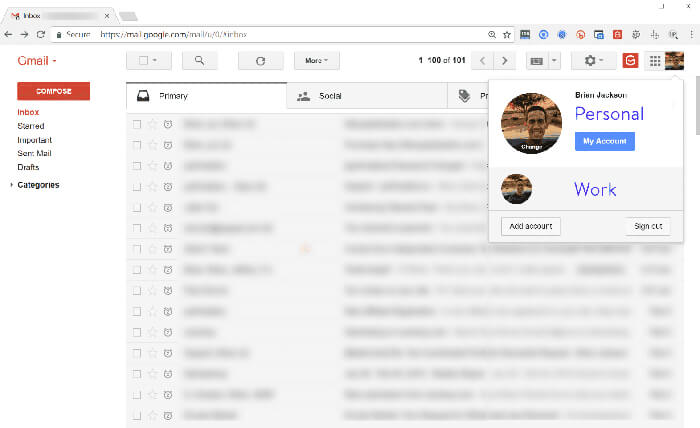 2. Collaborate on Google Workspace on any platform, device
The convenience that Workspace brings to employees in the company is to help ensure the ability to collaborate in real time (real-time collaboration) with colleagues from any place and on any device, whether phone, tablet or PC, Laptop. The toolkit meets the needs of working remotely when there are force majeure situations such as natural disasters and epidemics.

3. Continuous and durable uptime – The benefits of Google Workspace are of interest to businesses
When it comes to uptime, Google is one of the best known for its reliability. Specifically, Google Workspace offers a Service Level Agreement (SLA) with uptime and availability to customers of at least 99.9% at any given time. Also because email is such an important part of every business, Workspace will be continuously upgraded with no downtime or scheduled maintenance. All of Google's data centers serving the Workspace suite of applications are built with redundant infrastructure in mind.
4. Google Workspace helps to ensure safety and security
Google Workspace is built on Google Cloud Platform. Data is kept safe with security and privacy mechanisms that meet the most stringent standards for a cloud computing system (ISO 27001, FISMA, SSAE 16/SAE 3402 Type II, SAS 70).
It can be said that Google with industry-leading knowledge and expertise is leading "security-first thinking", supporting each of their products including Workspace.
More specifically, when working with Workspace, enterprise data will be secured by a series of mechanisms such as:
Google Workspace admin: Gives administrators the ability to control how data is protected, view reports, and even control mobile devices. Workspace admins can also disallow employees from having the ability to enable "less secure apps".
Encryption (TLS): With transport layer security, Workspace provides email encryption while in transit from one account to another.
Certification, Testing and Evaluation: Google Workspace regularly undergoes a number of independent audits by third parties.
Data saving: With Vault for eDiscovery and storage, Workspace provides the ability to retain, store, search, and export your data whenever you need it.
Security: Google does not collect, scan or use business data in Workspace services for advertising purposes. There are also no ads in any of the Workspace products.
Transparency: Google continuously provides transparency reports to keep users informed.
5. Improve work efficiency and increase connectivity in the enterprise
Google Workspace helps change the working culture in the company. The connection and interaction between members is enhanced through regular exchange through communication channels such as private group chat (Google Chat), video call (Google Meet)... as well as real-time collaboration. when working on text documents of the Google Offices suite (Docs, Sheets, Slides...).
It can be seen that each application in Workspace can become a small social network, suitable for each different user group. Even the trainee team (Graduate trainee, Internship) also has its own Google Group to share about working experience in the company.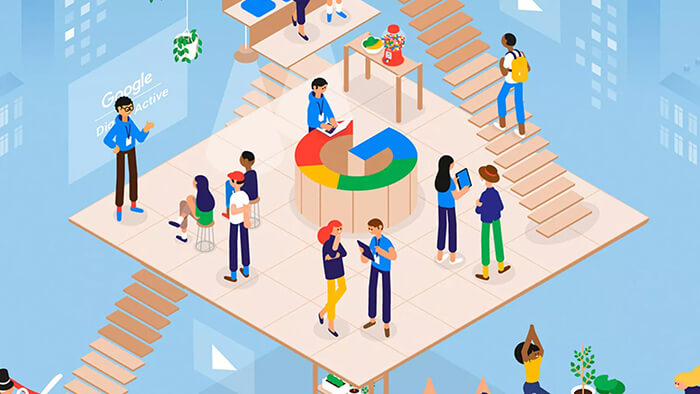 6. Google Workspace supports data management and analysis
According to research, businesses that make decisions based on the analysis of data are often more successful than those that use less than half of the data they own. That shows that businesses always need a set of tools that can convert data into graphs and charts quickly, intuitively and easily.
With Workspace, it's easier than ever to analyze data from sources through vivid, intuitive charts. Businesses can rely on it to generalize trends and make effective and timely decisions.
Refer: Google Workspace (Formerly G Suite)
7. Scaling Through APIs and Google Cloud Platform (GCP)
Google Workspace's openness for business (via Google APIs) and industry standards allow businesses to tie together parts of their administration systems in the cloud with predictable structure and costs . Google leads the way in cloud infrastructure (IaaS) with reliability, performance, price, and, importantly, resiliency.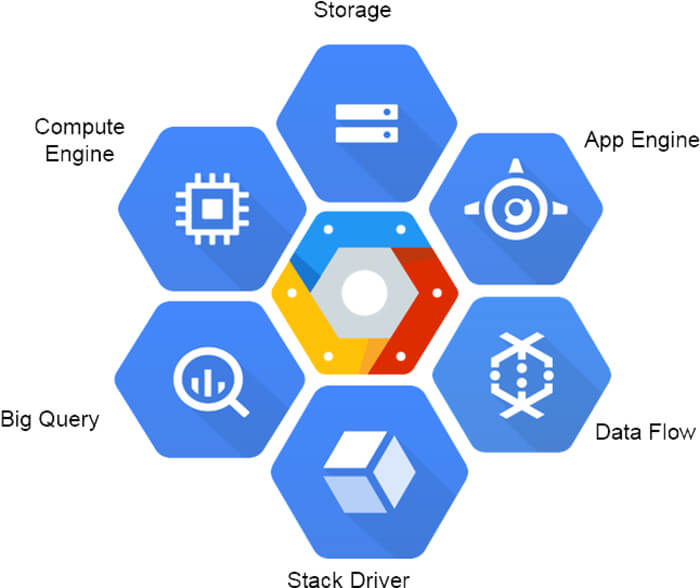 With the goal of helping businesses transform into a more flexible and professional working method, the Workspace application suite from Google has been trusted and chosen by more than 6 million businesses.
Contact Gimasys để được tư vấn chiến lược chuyển đổi phù hợp với tình hình thực tế doanh nghiệp của bạn và trải nghiệm miễn phí bộ ứng dụng Google Workspace: 
Hotline: Hanoi: 0987 682 505 – Ho Chi Minh: 0974 – 417 – 099
Email: gcp@gimasys.com
Sign up for a free trial: Here