Benefits of choosing G Suite Business
In Vietnam, the market is gradually getting used to the name G Suite by Google. Instead of choosing cheap options, it can be said that G Suite receiving more and more investment and acceptance from Vietnamese enterprises. However, most of us just stop at the application G Suite Basic – the lowest of the three versions that Google offers. The main reason is often related to cost. However, if your company has reached a stable level of development and is gradually expanding in size, the version G Suite Business is a much more affordable option. This is also the version that Google itself encourages units to use.
1/ Benefits of choosing a higher version – G Suite Business
1.1. Unlimited capacity:
Vì G Suite (Google Workspace customers) là ứng dụng được xây dựng trên nền điện toán đám mây, dung lượng là yếu tố cực kỳ quan trọng. G Suite phiên bản Business mang lại unlimited capacity for both Google Photos, Gmail and Google Drive. As a result, employees in the company can freely upload, store and access large files in the cloud.
According to Google policy, if you buy less than 5 accounts, each account has only 1TB (terabyte) of space. Do not be quick to despise this number. With 1TB, at least one user can store 310 000 photos; 170 000 hours of music or video with a duration of up to 40 days. Or to make it easier to imagine, with 15GB of free Gmail account that you still use, it is unlikely that anyone has used it all.
1.2. Cloud Search Features:
Bộ công cụ G Suite có rất nhiều ứng dụng nhỏ bên trong, bao gồm Gmail, Drive, Docs, Sheets, Sites,… Và khi sử dụng G Suite, tệp tin và dữ liệu thường được lưu trữ rải rác khắp các ứng dụng này, tùy thuộc vào thói quen và tính chất công việc của người dùng. Vì vậy, Google Cloud Search được phát triển cho phép người dùng search files are stored in all apps of G Suite. This means that users within the company have full access to company data no matter who they are created and where they are stored. If you think of data as the gray blood of your business, Google Cloud Search helps your business "blood circulation", without local congestion or "blood loss" if only a few people are in charge. keep them.
1.3. Google Vault:
The platform for electronic investigation (eDiscovery) and archiving (archive) data allows admins to build policies on storing content on Gmail, chat, etc. As a result, if there are data leakage problems, Whether, legal trouble, there is also a place to find evidence.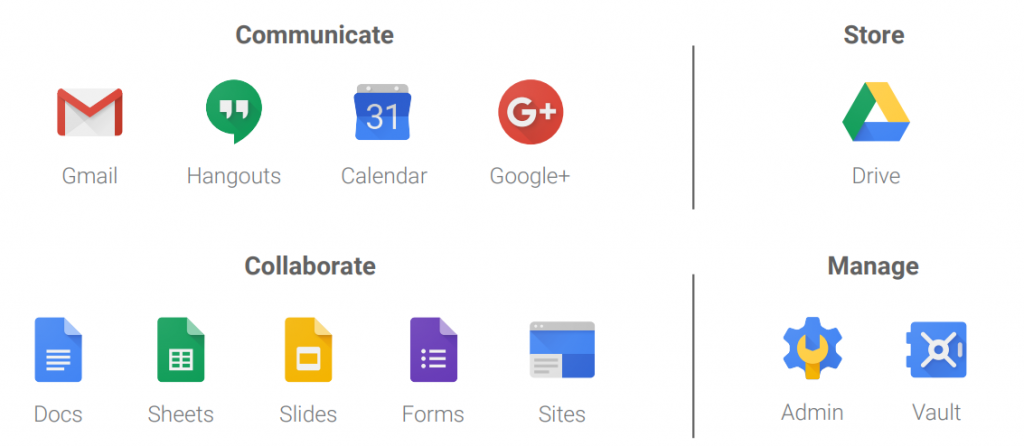 2/ Management and technical elements of G Suite Business
As a admin G Suite Businesss, you have quite a few tools to help you manage businesses, users, and applications. Some of the special features that admins can use include:
Advanced management in Google Drive: Admins can observe and understand their users with Drive audit reports, build custom alerts, etc. For example, by setting up alerts related to activity on Google Drive, you'll know when corporate data is being shared out. Or you can also specify who has the right to share Docs, Sheets, etc files outside the business.
Limit the actions that the user can perform, based on their sub-organizations (managed by organization unit). For example, you can limit the accounting department to only access certain files.
Auto save and sync (backup & sync) files to the user's computer with Google Drive to ensure that all information is up to date.
Allow or prohibit the use of the application by third parties. Typically, users will install some extension from Chrome and then access files in G Suite. This can potentially lead to data theft.
List trusted domains that you allow users to share files with. These can be other affiliates of the company, customers or partners.
Security key management: With this higher version, admin has permission to view and manage user security key settings across the enterprise. Specifically, you have the right to reset a user's password (reset password), add or remove a security key in the form of multifactor authentication, or reset their login cookies.
*If you do not know, Security key or Security key is a USB used to perform multi-layer security, instead of receiving codes via traditional phone. Every time there is an authentication request, you just need to plug the USB into the machine and you're done. 
(Yes. Now receiving codes over the phone has gradually become tinged with time. New technology requires users… to carry an extra USB stick. You can feel Google going against the times. " is a trend but not always absolutely safe. Especially when you are easy to become a target of data theft, it is a good idea to have "physical" elements always present in your hand.)
3/ G Suite Business compared to the other two versions:
Compared to G Suite Basic:

Judging from a feature perspective, G Suite Business has more Google Vault, the ability to retain email, search information on a large scale. Notable features are the ability to manage security keys, audit mobile devices, strictly manage Google Drive and other features for admins. Regarding the price, compared to the price of $4.2/account/month of the Basic version, the Business version costs more: $10.2/account/month. 
Compared to G Suite Enterprise: The Enterprise edition has a lot of unique features that the other two editions don't have. For example, the ability to prevent data loss in Drive and Gmail; view log of email activity with BigQuery, encrypt Gmail with S/MIME, etc. However, the price of a G Suite Enterprise account is much higher: $25/month. This version is generally more suitable for large companies and corporations with strict requirements for advanced security features, data management and recovery.
Conclude
You should carefully consider the features that G Suite Business version offers (in each analysis we include a link to more in-depth analysis that you can refer to). When the business has grown steadily or has plans to expand its business scope, the requirements for user and data management will increase. At this point, in terms of both cost and product characteristics, G Suite Business is a very worthy option to consider. 
Source: Gimasys