A timeline and tools for transitioning to the new Google Sites
What's changing
In 2017, Google announced that it would replace classic Sites with new Sites in 2019, also announced that domains would have until the end of 2021 to complete the transition. Now, Google is providing more granular progress and new tools to help you and your users manage the transition.
Full transition to new Sites by the end of 2021
Here are details on the expected progress for the transition from classic Sites to new Sites:
Now available – Classic Sites Manager, a tool that can help admins and users manage the transition to new Sites. See more details below.

Starting August 13, 2020 – New Website will become the default option for creating websites. See more details below.

Starting May 2021 – New site creation will no longer be available in Classic Sites. This means that any new sites created in your organization will only be available in New Sites.

Starting October 2021 – Editing for any remaining Classic Sites will be disabled.

Starting December 2021 – When users try to access the Classic Site, they will no longer see the site content. Any remaining Classic Sites will automatically be:

Downloaded as an archive.

Replaced with a draft in the new Sites experience for site owners to review and publish.
Enable New Sites for Users Today
If you have not already done so, Google recommends that users enable new Sites for all user groups that do not yet have access in your domain and disable creation of new classic Sites. This will help reduce the number of Classic Sites that are created and then need to be migrated. Your users will still be able to view and edit existing Classic Sites as needed.
New Classic Website Manager Available
Một công cụ mới, Trình quản lý trang web cổ điển, hiện đã có sẵn. Nó cung cấp chế độ xem các Sites cổ điển của bạn, khả năng xuất bản các tóm tắt sang Google Sheets để quản lý dự án, các tùy chọn để chuyển đổi Sites cổ điển và thực hiện hàng loạt hành động để lưu trữ hoặc xóa các trang web. Hiện tại, quản trị viên cấp cao sẽ có thể xem và quản lý tất cả các Trang web cổ điển trong miền của họ và người dùng sẽ có thể xem và quản lý các Trang web cổ điển mà họ sở hữu. Tìm hiểu thêm tại đây: guidance for G Suite admins, guidance for end users.
New Sites default option starting August 13, 2020
Starting August 13, 2020, New Sites will become the default option for creating websites. This means that if you have both Classic Sites and New Sites enabled, when users visit sites.google.com, they will be redirected to sites.google.com/new. From there, users can view and manage new Sites, and create sites with new Sites. Users can still use classic Sites easily by clicking the "back to classic Sites" button on the new Sites homepage.
Who's impacted
Admins and end users
Why you'd use it
Since launching the new Sites, Google has aggregated and incorporated user feedback and top requests that are now baked into the new Sites experience. Consists of:
Admin rights

allows you to control the ability of users in your domain to edit and create websites.

Section layouts and ready-made templates

allows users to create websites with fewer clicks and less expertise in page creation.

Version History

 allows users to view their edit history, revert and rollback to previous versions, and review the history of people who made changes.

New types of tiles

 allowing users to be more expressive with website content, including table of contents, image carousels, collapsible text, etc.

Edit URLs

and

Publish to everyone

allow users to share their website content.
As a result of these improvements, the new Sites provides powerful features and a simple user experience so that users can create websites without the help of designers, programmers or IT professionals. For example, you can learn about how customers are using Sites to support work and distance learning.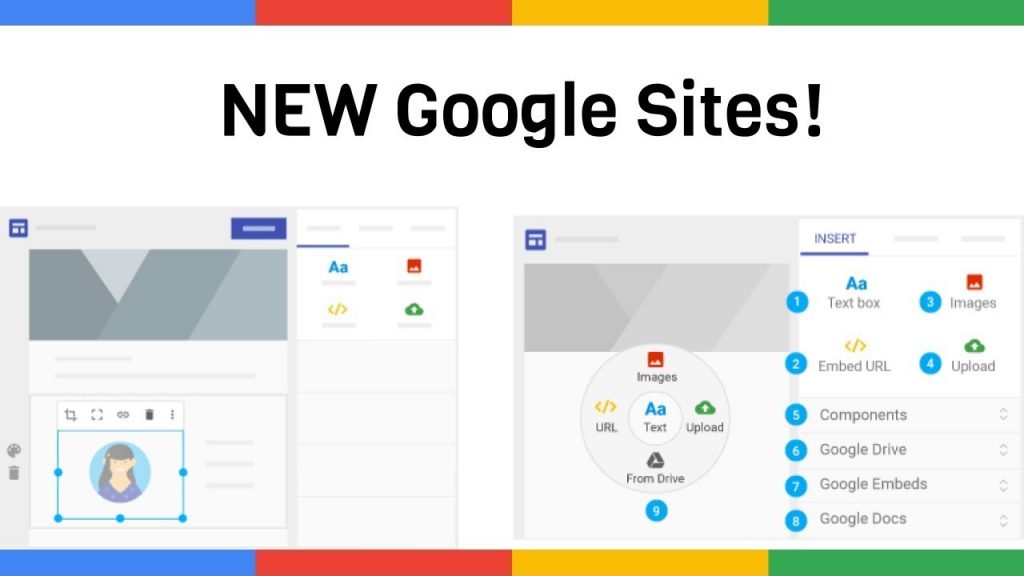 Getting started
Admins: 
New Sites Default: This change will happen by default if you have both Classic Sites and New Sites enabled. You can enable or disable New Sites for users at the organizational unit or team level. Learn more here

How to Enable New Sites

. 

Classic Sites Manager Dashboard: Learn

Classic Sites Manager

and book your transition plan here

Conversion Guide

. 
End users:
Rollout pace
Default New Sites
Scheduled and pre-release domains: Gradual rollout (15 Days) starting August 13, 2020
Classic Sites Manager Dashboard
Availability
Available to all G Suite users and personal accounts
Source: Gimasys